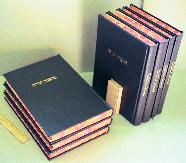 Hebrew Encyclopaedia featuring hot foil die stamping.
Only the highest quality!

We provide a sewn, hard cover, hot foil stamped, durable binding for your Thesis; Periodicals; Medical or Technical Journals; as well as most other forms of text.

We use Library Buckram, the finest cover material in the industry, available in a wide variety of solid colors.

Stamping is recommended in gold.